INDIAN RECORDS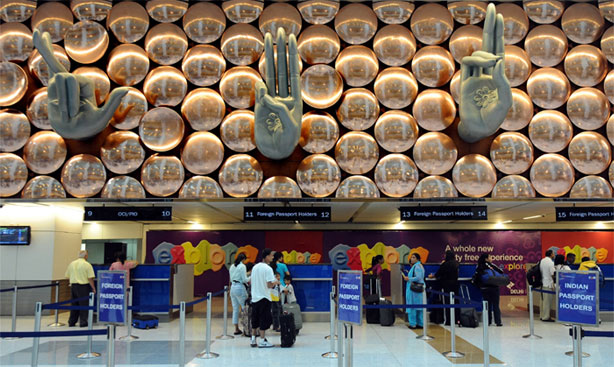 India's Largest Airport Terminal
Set By : Delhi Airport Terminal 3 (T3)
The Delhi airport is operated by Delhi International Airport Ltd, a joint venture company led by the GMR Group, along with state-owned Airports Authority of India, Germany's Fraport and Malaysian Airport Holdings.
Currently, the airport has a capacity of handling 60 million passengers annually. It can be raised to 100 million by building two more terminals in phases. T3, which alone can handle 34 million passengers a year, is the eighth-largest passenger terminal in the world in terms of size.
The terminal was built in a record 37 months at a cost of Rs 12,700 crore (Rs 127 billion) - over Rs 3,700 crore (Rs 37 billion) than the approved cost. The terminal has 48 boarding gates, 63 elevators and 78 aerobridges, which include three aerobridges that cater exclusively to the Airbus A380 planes. It has 168 check-in and 90 immigration counters, with a special counter for business and first-class travelers.
Terminal 3 of Delhi's Indira Gandhi International Airport has become the world's first and also the largest terminal building to be conferred the prestigious 'Leadership in Energy and Environmental Design New Construction' (LEED NC) gold rating.
LEED NC is the certification system developed by Indian Green Building Congress for green buildings. It is the local chapter of US Green Building Council, one of the most well known, whole-building standards in the world.
The rating was awarded on the basis of T3's features across six categories: Sustainability, water efficiency, energy and atmosphere, material and resources, indoor environmental quality and innovation in design.

The IGBC definition of a green building is one which uses less water, optimises energy efficiency, conserves natural resources, generates less waste and provides healthier spaces for occupants, as compared to a conventional building.
Rainwater harvesting or uses of natural lighting and CFL bulbs are the basic elements for achieving the green building objective.
The Terminal 3 (T3) is the fifth largest in the world.