INDIAN RECORDS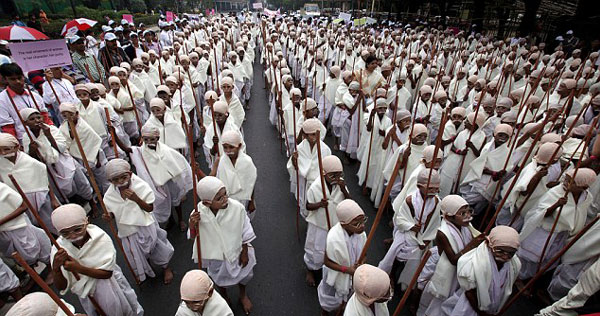 Largest gathering of people dressed as Mahatma Gandhi
Set By : TRACKS (Training Recourse and Care for Kids)
Kolkata, India
29 January 2012
An inspiring 485 children in Kolkata set a new record for the largest gathering of people dressed as Mahatma Gandhi.
The 485 children donned matching outfits in honour of Mahatma Gandhi, the iconic Indian spiritual leader who was assassinated 64 years ago to the day. As well as the peace leader's trademark round glasses and moustache, the boys also sported white robes to mimic his traditional Indian dhoti and shawl, as well as holding walking sticks.
Their march was an attempt to bring alive memories of Gandhi's historic Dandi march in March 1930 which sparked India's independence movement.
The boys, all aged between ten and 16 and mostly from single mothers, walked in costume for half a kilometre in central Kolkata, West Bengal.
The underprivileged youngsters also set a world record, as their march of 485 children was the largest such gathering ever recorded.
Their impressive effort eclipsed the previous record for such an event, where 255 children dressed as Gandhi in Tamil Nadu's Coimbatore district on June 13, 2010.
The children took part in the march named 'Rise Up' while watched by Gandhi's granddaughter Usha Gokani. She said: 'It's a great feeling. When my children heard of the effort they egged me to come to Kolkata.
Michael Anthony, who runs the UK-based organisers TRACKS (Training Recourse and Care for Kids) who set up the march, said: 'We don't want the underprivileged kids to forget the rich legacy of Gandhian ideology.'