INDIAN RECORDS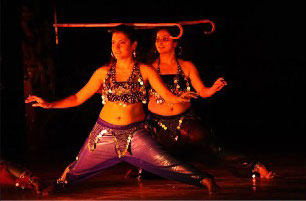 Longest Time Balancing A Wooden Cane Stick On Head While Performing Belly Dance
Hyderabad, India
7 July 2016
The Indian Record for the longest time balancing a wooden cane stick on head whilst performing Belly Dance is 2 minutes 56 seconds and is achieved by Payal Gupta at the Naadhkulla Multi Talent Reality Show, Hyderabad, India.
Payal runs "Payal's Dance Academy", at Bangalore, specialised in teaching the Arabic and Egyptian forms of belly dance and has recently incorporated modern contemporary and freestyle forms of dance as well. The academy has been teaching belly dancing to women coming from various backgrounds as well as little girls as young as 10 yrs of age.
The academy has a very own professional belly dance team known as ISADORA'S MUSE consisting of 7 members. This troupe specializes in classical and modern Egyptian belly dance and has done various dance shows in various locations.
Payal taught dance to under-privileged children, through the 'TEACH INDIA INITIATIVE' by THE TIMES GROUP.