INDIAN RECORDS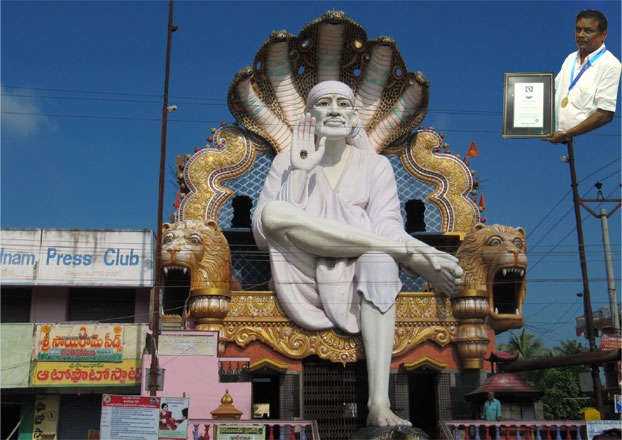 World's Biggest Statue of Shirdi Sai Baba
Set By : Lakshmipuram Vittal Rao
Machilipatnam, Krishna District, Andhra Pradesh, India
25 August 2016
The world's biggest statue of Shirdi Sai Baba measures 16.45 m (54 ft) height x 10.97 m (36 ft) wide. It was unveiled on 18 October 2007 in the city of Machilipatnam, Krishna District, Andhra Pradesh, India.
Machilipatnam is a city with a rich history of foreign conquests, business and trade. Sai Maharaj Devalayam at the district court centre of Machilipatnam is the main attraction of the town.
The statue of Shirdi Sai Baba was built by Lakshmipuram Vittal Rao in 2007. He is the founder of Sree Sai Maharaj Devalayam at Machilipatnam, Andhra Pradesh. The statue cost him Rs 20 lakh and was created by sculptor Manikyaa Rao of Tenali. It took him three years to complete the statue.
Sai Baba sitting on stone posture with Nagabarana (5 headed Snake) above the head is designed in front of the 3 storey temple of Sai Baba.
A 7.5ft height marble statue of Sri Sai Baba with Abhaya hastam (blessing Right Hand) in standing posture can be seen in the temple of Sri Sai Baba. A 5.5ft Cement statue of Sai Baba is in the front of this standing statue of Sai baba and Sai devotees are allowed to touch the statue and offer flower garlands.
A 4ft Dwarakamai statue of Sai Baba can be seen in the temple premises near to the main sanctum. A Pancha Loha idol of Sai Baba is also present in front of the main statue and used for Palki Utsav.

Sai Baba Nanda deepa is towards the left at the entrance of the temple with a diya burning day and night. A Dhuni of Sai Baba is at the right of the entrance of the temple.