INDIAN RECORDS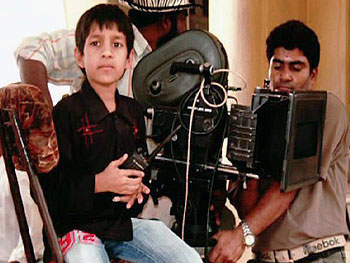 Youngest film director
Set By : Kishan Shrikanth
Bangalore, India
26 November 2006
The youngest director of a professionally made feature length film is Kishan Shrikanth (born 6 January 1996), who directed C/o Footpath, about an orphaned boy who wants to go to school, when he was 9 years old.
He replaced Sydney Ling, who was thirteen in 1973 when he directed the Dutch film Lex the Wonderdog.
The film is adapted from a short story written by himself, and the cast includes prominent Indian actors Jackie Shroff, Saurabh Shukla, B.Jayashree, Sudeep and Tara. Kishan himself plays the lead. The film has been dubbed into the 5 major Indian Languages and it has also been released in English Language. It was first shot in Kannada and the original version was released on 26 November 2006.