INDIAN WONDERS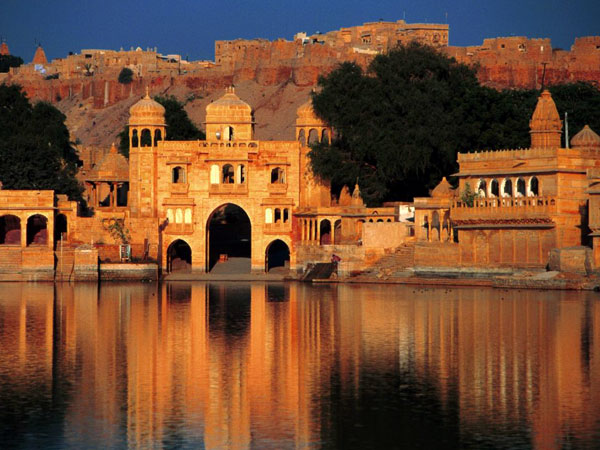 Jaisalmer Fort
Jaisalmer Fort is one of the largest forts in the world. It is situated in Jaisalmer city in the state of Rajasthan. It was built in 1156 AD by the Bhati Rajput ruler Rawal Jaisal, from where it derives it name. The fort stands proudly amidst the golden stretches of the great Thar Desert, on Trikuta Hill, and has been the scene of many battles. Its massive yellow sandstone walls are a tawny lion color during the day, fading to honey-gold as the sun sets, thereby camouflaging the fort in the yellow desert. For this reason, it is also known as the "Golden Fort".

Built in 1156, Jaisalmer of Rajasthan is the second oldest of Rajasthan's major forts after Chittorgarh of Rajasthan. Constructed by Raja Jaisal, who was searching for a new capital as the earlier one Lodurva was too vulnerable to invasions, he built the fort and the city surrounding it.
Mounted atop Trikuta, the almost triangular triple-peaked hill, the fort rises like a sunbeam from the desert, 250 feet tall, and is reinforced by an imposing crenellated sandstone wall 30 feet high. It has as many as 99 bastions. The view of the 99 bastions of the yellow sandstone fort, the desert citadel of Raja Jaisal, is spectacular to behold. The fortifications have grown exponentially over the centuries, and wells within the confines still provide a regular source of water to the fort of Rajasthan.

The fort contains 3 layers of walls. The outer or the lower layer is made out of solid stone blocks and it reinforces the loose rubble of Trikuta Hill. The second wall, i.e. the middle wall snakes around the fort. From the inner most or the third wall, the Rajput warriors used to hurl boiling oil and water, and massive round blocks of rock as missiles on the enemies when they got trapped between the second and the third walls.