INDIAN WONDERS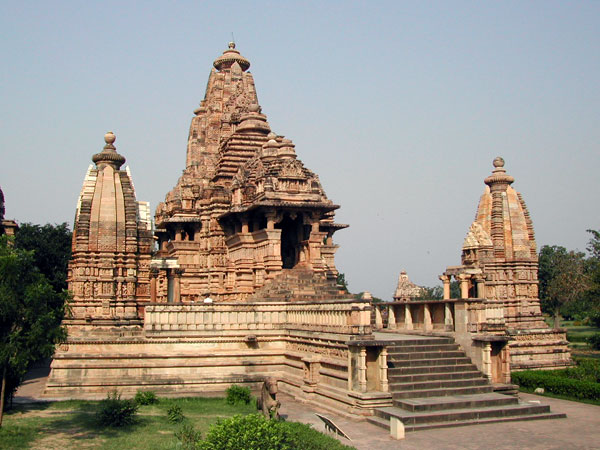 Khajuraho
Khajuraho has the largest group of medieval (between 950 C.E and 1050 C.E) temples of Hindu, Buddhist and Jain religions. There is perfect fusion of architecture and sculpture at this temple complex, famous for their erotic sculpture. The temples are a UNESCO World Heritage Site. At the Temple of Kandariya, there is a profusion of decorated sculptures considered as one of the greatest masterpieces of Indian art.
Built by Chandela dynasty, the temples exhibit stunningly explicit sexual sculptures which were created by the artist's imagination of lovemaking positions prevalent at that time, or based on the rules outlined in the Kama Sutra. Many of the sculptors have claimed artistic ownership on many sculptures. Built of sandstone in varying shades of buff, pink or pale yellow, most of the temples belong to the Shiva, Vaishnava or Jaina religious sects, which are difficult to differentiate from one another.
The temples, sited in an east-west direction, depicts a plan with spacious layout with interior rooms inter connected. An entrance, a hall, a vestibule and a sanctum are part the common layout plan of the temples. It is stated that the Khajuraho temples are a celebration of womankind, her innumerable moods and facets which are witnessed by the carvings of a woman writing letter, applying makeup to her eyes, combing her tresses, dancing, and playing with her child. Also etched, sculpted with consummate skill are innocent, coquettish, smiling, seductive, passionate and beautiful and erotic sculptures depicted in intricate detail. It is also opined that the Chandelas followed the Tantric cult with the faith that gratification of earthly desires is a step towards attaining Nirvana, the infinite liberation.